YIDDISH SONG
'One of the most vibrant genres in world music. Yiddish music is the new rock & roll.' The Guardian
Marianna Moralis: vocals
David Mowat: trumpet
Knud Stüwe: guitar
Simon Leach / Brendan Hockey: percussion
Yalla! An infectiously entertaining mish-mosh of powerful Yiddish music hall songs and whirling klezmer and Middle Eastern dance tunes.
Marianna Moralis' impassioned vocals lead the party, driving fabulous New York Yiddish theatre songs, old world Yiddish folk songs, and ​​cheerful singalongs; David Mowat (trumpet), Knud Stüwe (guitar) and Simon Leach (percussion) propel the joyous and sizzling arrangements with their impressive playing and enormous sense of fun.
With fantastic music, brilliant audience rapport and more than a touch of goodtime showbiz, this is a set guaranteed to raise the spirits. Sababa!
REVIEWS:
'Energetic and exciting, Chai For All combine klezmer, Yiddish folk and jazz throughout their music. Making one fierce brew as a result. It's emotive, soulful and unlike anything you'll ever see.' Bristol24/7
'We saw Chai For All last Wednesday at the Lansdown and had a fabulous night. Wonderful music to bring joy to any day.
Marianna is a charismatic lead singer, beautiful to listen to. Looking forward to seeing them again and if I have a party at any point I will definitely be booking them.' Victoria Bourne - musician and vocal coach
'I could have been in Prague, Berlin or Warsaw. Very un-Bristol. We came in for a beer and it kept us here.' audience member 
'Great night tonight at The Rope Walk enjoying 'Chai For All'. If you get a chance to see them you are guaranteed not only great musicianship but some good banter with the audience between numbers from the lead singer, well worth spending the time in their company.'
Mike, audience member
'Chai For All are awesome! So much energy and talent - I loved the snippets of storytelling in between and can't wait to hear more.'
Sarah, audience member
'I love the interaction between the band members, the authentic feel and the rhythms. I should have got up and danced.'
Jan, audience member
'Everybody loved you! What a beautiful time. Thank you so much and good luck with your endeavours.' Pamela, private client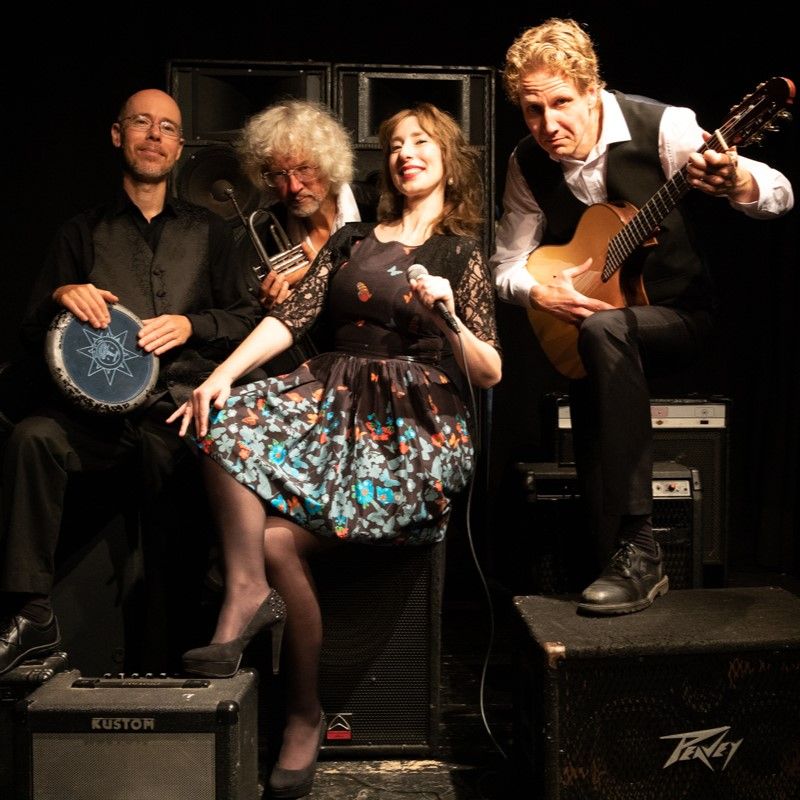 SONG LIST
ABI GEZUNT
ALE BRIDER
AMOL IZ GEVEN A MAYSE
AYN BALADE FIN TSERISNE SHIKH
BEI MIR BISTU SHEYN
BUBLITCHKI BAGELACH
CHIRIBIM CHIRIBOM
CHUSN KALLEH MAZEL TOV
DANCE ME TO THE END OF LOVE
DI GRINE KUZINE
DI MEZINKE OYSGEGEBN
DI TZUKUNFT
FRILING
GIRL (The Beatles, arr Chai For All)
GLIK
HAVA NAGILA
IKH HOB DIKH TZIFIL LIB
KESHENEVER SHTIKELE
L'CHAIM
MAHZEL MEANS GOOD LUCK
MAYN SHTETELE BELZ
MISIRLOU
PAPIROSEN
SHEYN VI DI LEVONE
TUMBALALAIKA
UNTER DEYNE VAYSE SHTERN
VI AHIN SOL IKH GEHN